Evaluate the Software for FREE!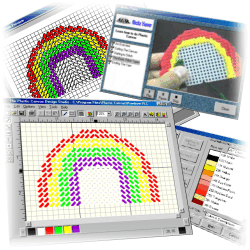 We invite you to try the Plastic Canvas Design Studio foryourself. You can download the full version here at no cost or obligation. The only limitations are the Save feature is disabled, and you can print unmodified designs only.

There is no time limitation or expiration date for your evaluation. Even if you decide not to purchase the Plastic Canvas Design Studio, you can keep the software installed as long as you wish to print patterns you might find on the Internet.

See for yourself, on your own computer, how great this software is!


Get Instant Access!

If you decide to purchase the Plastic Canvas Design Studio, we can provide you with an unlock key which you can use to gain instant access to the Save and Print features of the software you are about to download.

When you order our software online, you will instantly receive your unlock key. This means that you can start using the software Right Now!




Click Here for step-by-step instructions to download and install our software on your computer!